Automakers showcase new models in Beijing
(From:CMB-CETA Editor)
Daimler AG unveiled its new ultra-luxury Maybach sedan Thursday as automakers began a flurry of new vehicle launches at the Beijing auto show in a scramble for China's fast-growing market amid slack sales elsewhere.
The show, in a country with almost no private cars 15 years ago, has risen to the top ranks of global auto industry events as China's explosive sales growth drove this market past the United States in 2009 to become the world's biggest.
Foreign automakers are pushing to expand sales in China while young but ambitious local brands such as Volvo buyer Geely want to raise their profile. The auto show opens Friday to the press and Tuesday to the general public.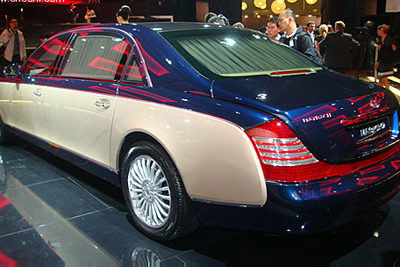 Daimler debuted the blue and silver Maybach at a lavish event amid the 19th century mansions of Beijing's old embassy district, with entertainment by pop singer Leona Lewis.
"Nowhere is the potential and the possibility of the future more apparent than in China today," said Ulrich Walker, chairman and CEO of Daimler Northeast Asia.
The new Maybach, which features optional Swarovski crystal decorations on the seats, perfume atomizers and wireless Internet routers, is one of 14 new vehicles to be shown by global automakers in a reflection of China's new importance.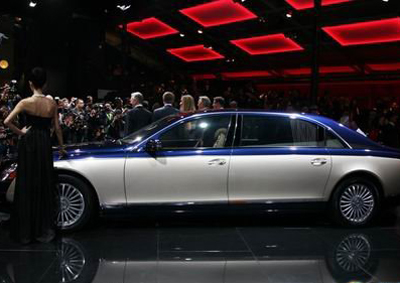 Sales elsewhere are so weak that China accounts for most or all the global profits for such major producers as General Motors Co., Volkswagen AG and Daimler, said John Zeng, an auto industry analyst for IHS Global Insight.
"The real profit is coming from China," Zeng said. "China is very important for global automakers both for profits and sales volume."
China's auto market shrugged off the global crisis and sales soared by an eye-popping 45 percent last year to 13.6 million vehicles, well ahead of the 10.5 million units sold in the United States. Sales have been boosted by China's economic rebound, which saw growth accelerate to 11.9 percent in the first quarter of this year.
Analysts expect more double-digit sales growth this year, though they say it should slow from 2009's breakneck pace as Beijing winds down its stimulus and cools bank lending to head off an upsurge in inflation.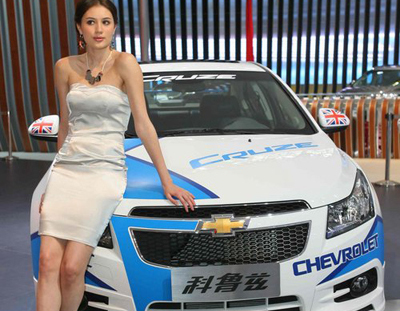 Foreign brands are more aggressive than ever this year in Beijing, where organizers say a total of 990 vehicles are to be displayed, from motorcycles to minivans to fire trucks to futuristic concept cars.
GM is premiering its all-electric Volt MPV5 concept car and a Chinese-made minivan and a compact sedan. Ford's latest Focus sedan gets an Asian debut and the company is unveiling a new concept car.